Cheap Temporary Fence Banner Mesh Signs
As used by building housing and construction companies in Australia, we also supply fencing hire companies and designers.
The sign designer inspecting the fence mesh, eyelet positions and general finish before sending to the client for their temp fence hire in Queensland.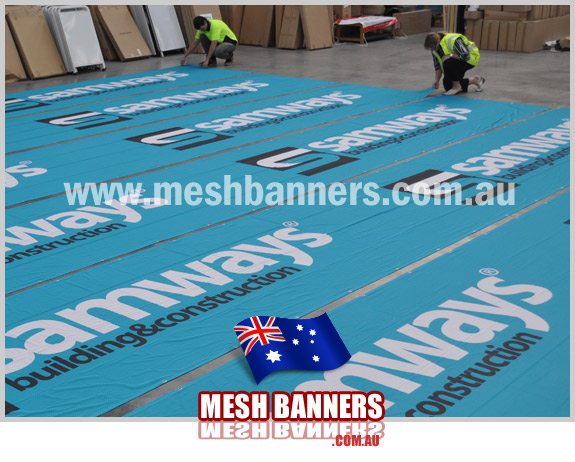 Whilst making the temp fence hire signs and banners our team look carefully at the corners and reinforced eye positions so that attachment is easier for the customer, standard size temp fence is now available and you can upload your design or ask us to create the signage design for you. If you are in Sydney and need fencing signs and banners, site screens, smart layouts and photo layouts just let us know, In Melbourne or Cairns, Perth or Hobart we look after all the details for you to make your site banner easier.
Many councils require the building company to now manage dust control on local building sites and the buy online sign mesh here allows the company in Australia to upload the sign design directly into the printing station for production. This gives the temp fence banner sign customer cheaper prices and also free delivery to their office or site location office. Supplies of printed sign mesh or also known as air mesh, temp mesh and shade clothe mesh print are cheap here.
Brisbane signs and banners are well serviced through this website, as is your order for Sydney or if you need signs in Hobart. This is a national service of supplying printed fence mesh banner signs with eyelets and hems for companies in Australia.
NOW AVAILABLE - Cheaper Price 'standard' sizes for temporary fence lengths
You can now buy 10m and 2.7m size printed mesh banners for temp fence hire applications. This gives you as the Hobart sign customer or Gold Coast sign customer the lowest possible price, also includes free shipping.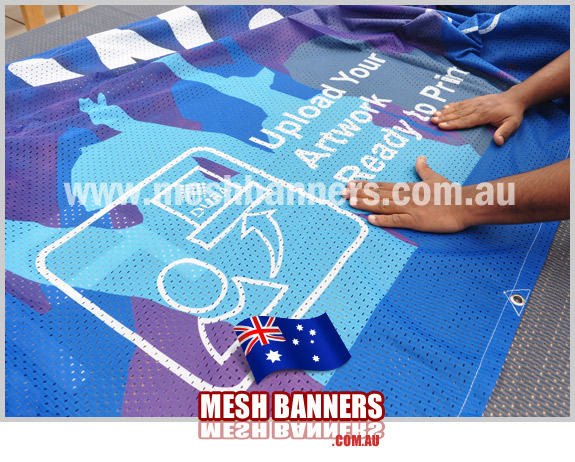 A fantastic capability for our trade based clients (temporary fence hire companies and building company designers) is that they can now upload and design their own design quickly, with the proper standards, ready to print. This significantly reduces the price of a temporary fence mesh banner sign and gives them more design flexibility such as adding the proposed site elevation drawings, building concept drawings and other marketing features.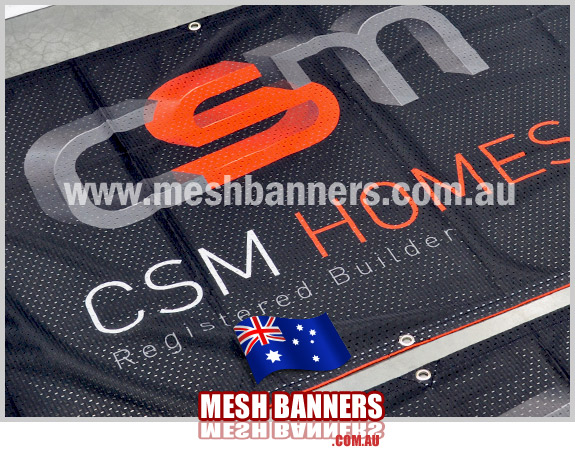 Client can upload their print logo designs and sizes. This makes it very easy and makes the sign cheap.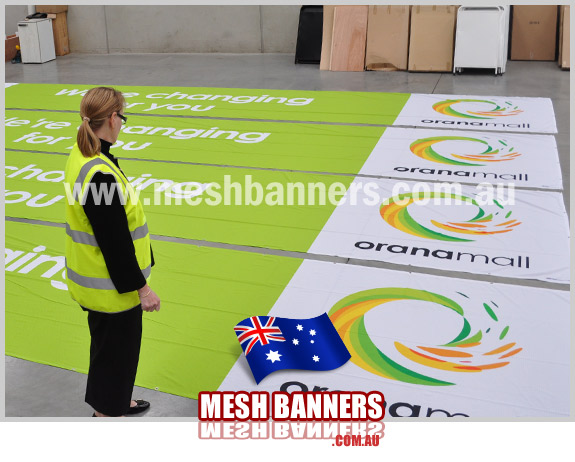 Renovations and hoarding can be cheaply advertised and displayed. The building company or customer can advertise cheap.
Large banners, small or custom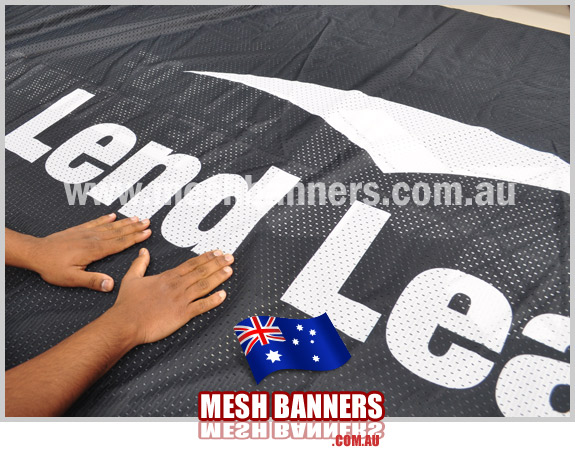 Making site screens look smart for large companies, medium size developers, builders and renovators, we supply printed fence screens for all areas of Australia and give you free shipping FSA on items for promotion* If you need a sign painted fence shade cloth style sign let us know fast.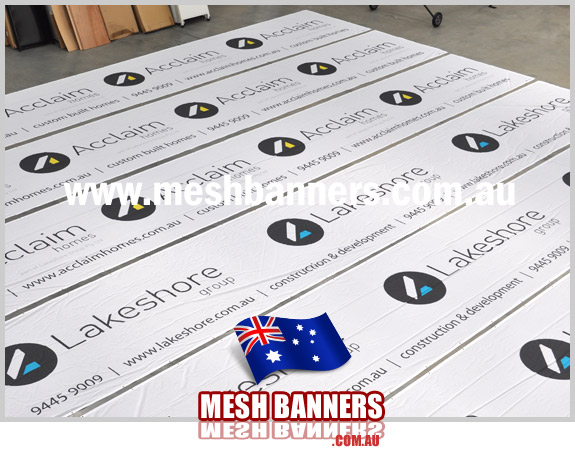 Different varieties are simple for our team, you can use a 'step and repeat' technique for the fence printing or we can show you how full color full length printing on fence printing can be used. Our company has a full team of graphic designers too.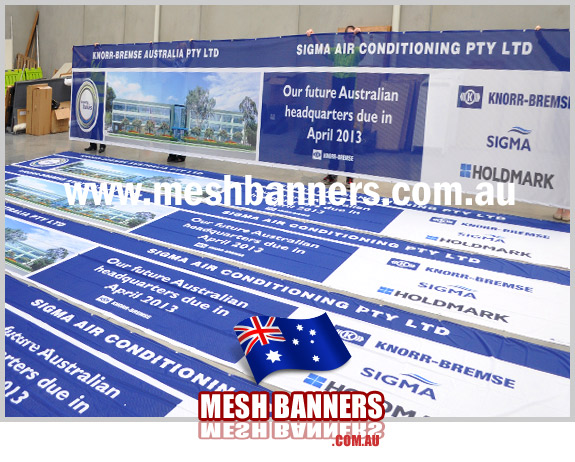 Result on fence (customer photo) on iphone shows the sign fitted to the perimeter fence of the construction site.
This sign on the fence is also a great example how much you can see through the mesh sign.
---
Fence Identification Signs
We also supply all sizes of flute or metal fence company and subcontractor metal signs etc attached to fences, site entrances, safety notice boards etc.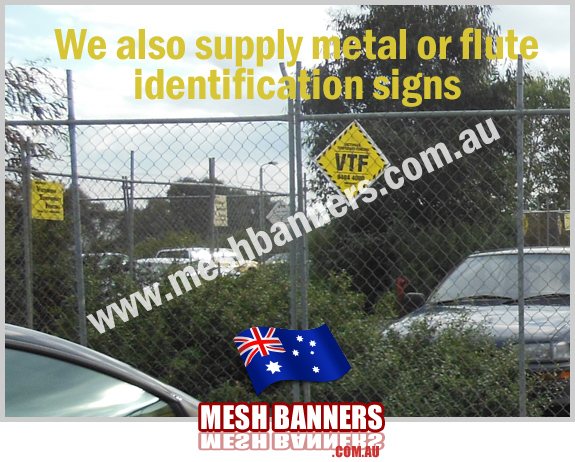 ---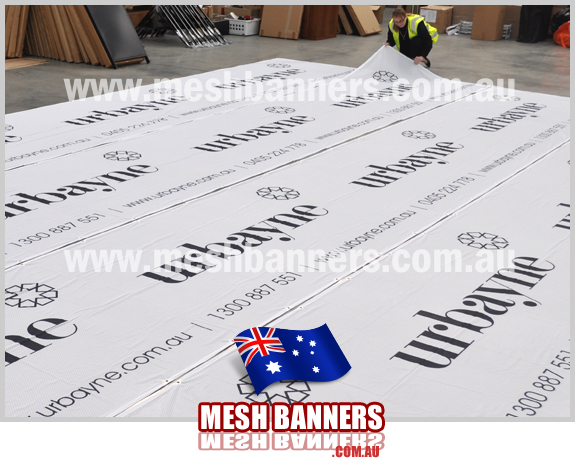 Fabric is re-usable and bio-degradable.
Cost is lower and affords customers hundreds of additional metres of fencing screen.
Can be sewn to form large heights.
Fabric is 1/3 the weight of vinyl banners of equal size.
NON Tear, the special weave design of Dura makes gives the material non tear status.
More fantastic sign ideas
and examples.
---